If there is one required activity of Seattle tourists, it is a trip across the open waters of Puget Sound.
The memories of a Bainbridge Island ferry ride in the Pacific Northwest last a lifetime, which is why the Washington State Ferries are the most popular tourist attraction in the state. About 4.6 million people ride the Seattle / Bainbridge Island route each year.
The trip from Seattle to Bainbridge Island via ferry boat (locals refer to it merely as "the boat") is 35 minutes. The two Washington State Ferry boats on this route are over 400 feet long, and can carry up to 200 cars and 2,500 passengers.
If you're walking onto the boat, you only pay for the fare when traveling from Seattle to Bainbridge Island. The fare is free if walking onto the boat from Bainbridge Island to Seattle. (More about fares.)
And while it is rare, some lucky ferry travelers have been known to see the Southern Resident killer whales (also called orcas/Orcinus orca).
Bainbridge Island / Seattle Ferry Schedule
No matter when you are traveling, please get to the ferry early. The gate to the boats are closed three minutes prior to scheduled departure.
There is nothing worse than missing the ferry by just a couple of cars. If you want to see if a how busy a sailing is, you can check the Typical Vehicle Traffic Conditions.
Monday Through Friday

Leave Seattle

5:30

10:40

3:50
9:20

6:10

11:25

4:45
10:05

7:05

12:25
5:45
10:55

7:55

1:10
6:30

12:15

8:45

2:05
7:30

9:35

3:00
8:15

Leave Bainbridge Island

4:45

9:40

2:55
8:20

5:20

10:25

3:50
9:00

6:20

11:30

4:45
10:00

7:05

12:20
5:35
11:30

7:55

1:15
6:40

8:45

2:05
7:20
Saturday, Sunday and Holidays

Leave Seattle

6:10

12:30
5:35
10:40

7:55

1:15
6:25
11:15

8:55

2:10
7:20

12:45

9:35

3:05
8:10

10:40

3:50
9:00

11:25

4:45
9:45

Leave Bainbridge Island

5:20

11:35

4:40
9:45

7:05

12:20
5:35
10:30

7:55

SatH

1:20
6:30
Midnight

8:45

2:10
7:15

9:45

3:00
8:10

10:25

3:55
8:55
On the tables above: Green is a.m. Black is p.m.
SatH Saturdays and Holidays (New Year's Day, Jan. 2, Memorial Day, Independence Day, Labor Day, Thanksgiving and Christmas) only.
Any questions about sailings should be directed to the Washington State Ferries at 888-808-7977 or 206-464-6400.
Alerts for the Bainbridge Island Ferry Route
[Last Updated 11/22/2020 – 9:45 PM] All Routes – Customers are Advised to Limit Ferry Travel to Essential Purposes
[Last Updated 11/25/2020 – 10:55 AM] Sea/BI- Seattle/BI: The Seattle/Bainbridge route will operate on a Saturday Holiday Schedule for Thanksgiving Day, Thursday, Nov. 26. Customers are advised to plan ahead by checking schedule online.
[Last Updated 10/23/2020 – 9:56 AM] Sea/Brem/BI – Vehicle and Bike Traffic Must Exit Colman Dock Via Yesler Way
[Last Updated 11/21/2020 – 4:58 PM] Sea/BI-Utility repairs requires night work on SR 305 Agate Pass Bridge
Ferry Reservations and Cost
You don't need to (nor can you) make a reservation to board the Bainbridge Island ferry on foot or with your car in Seattle; it's first-come, first-served.
While there is a fee from Seattle to Bainbridge Island for both walk-on passengers and automobiles, the route from Bainbridge Island to Seattle only charges for automobiles (walk-on passengers and bicycle riders are free).
Camera Shots of Car Loading Lots
Bainbridge Island Ferry Route Holding Area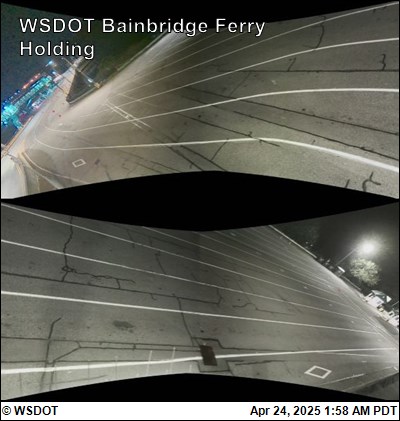 Ferry Holding at WSF Terminal in Seattle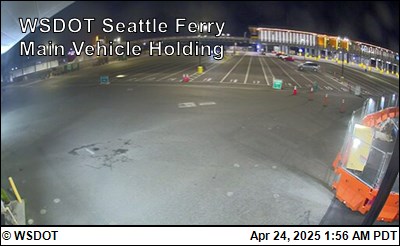 Typical Vehicle Traffic Conditions
The tables below are for vehicle traffic only. In almost all cases there is room for walk-on passengers.
Traffic congestion levels represent typical sailings for the season and may vary for special events or holidays.
Fall Season (September to January)
Spring Season (March to June)
Colman Dock, Pier 52, Seattle
The Bainbridge Island ferry leaves Bainbridge Island and docks at Colman Dock, Pier 52, Seattle.
The street address for this dock is 801 Alaskan Way, Seattle, WA.
Travel Options on Bainbridge Island
There are four options to get from the ferry boat (once landed on Bainbridge Island) to all the fun in downtown:
Foot – it's only a few tenths of a mile up the street and you're in downtown Winslow, 15 minutes across downtown from point 1 to point 2 on the map below
Public Transportation (busses serve five sailings in the morning and again in the evening)